Get The 30-Day Digital NativeBody Reset Program Today For FREE
Doctor-Designed Diet & Exercise Plan To Restore Your Energy, Metabolism & Overall Health Back To Its Original Settings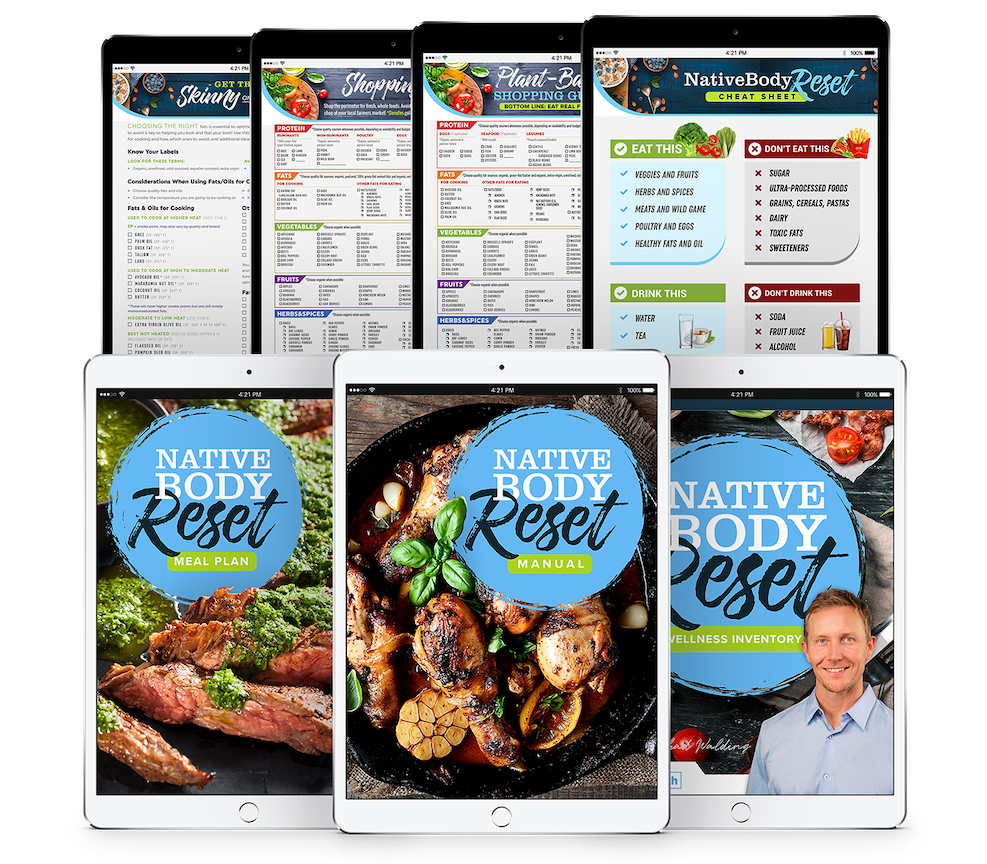 Sign-Up Today And Get FREE Access To Dr. Walding's 30-Day Digital NativeBody Reset Program
How The NativeBody Reset Works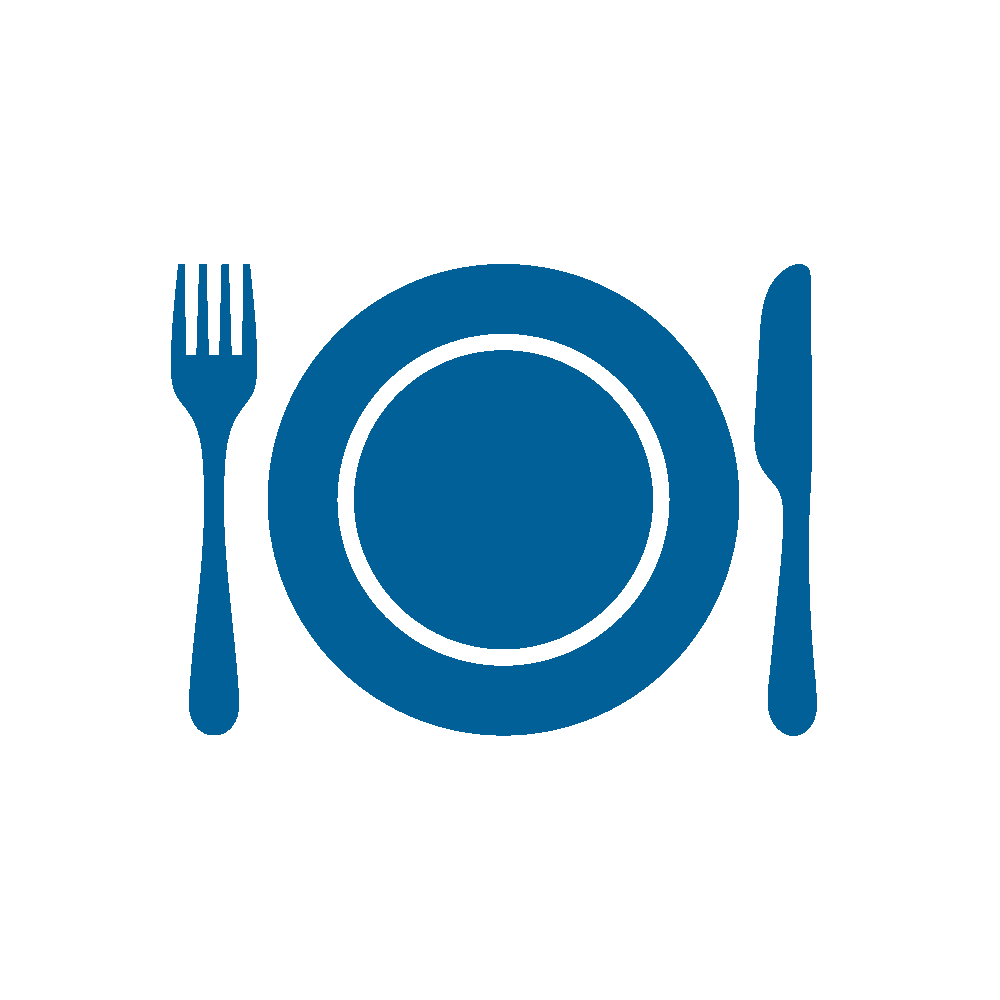 Using the wisdom of our ancestors, the NativeBody Reset delivers a step-by-step approach to daily nutrition with whole food guidelines, a 30-day meal plan, done-for-you grocery lists and a daily food journal.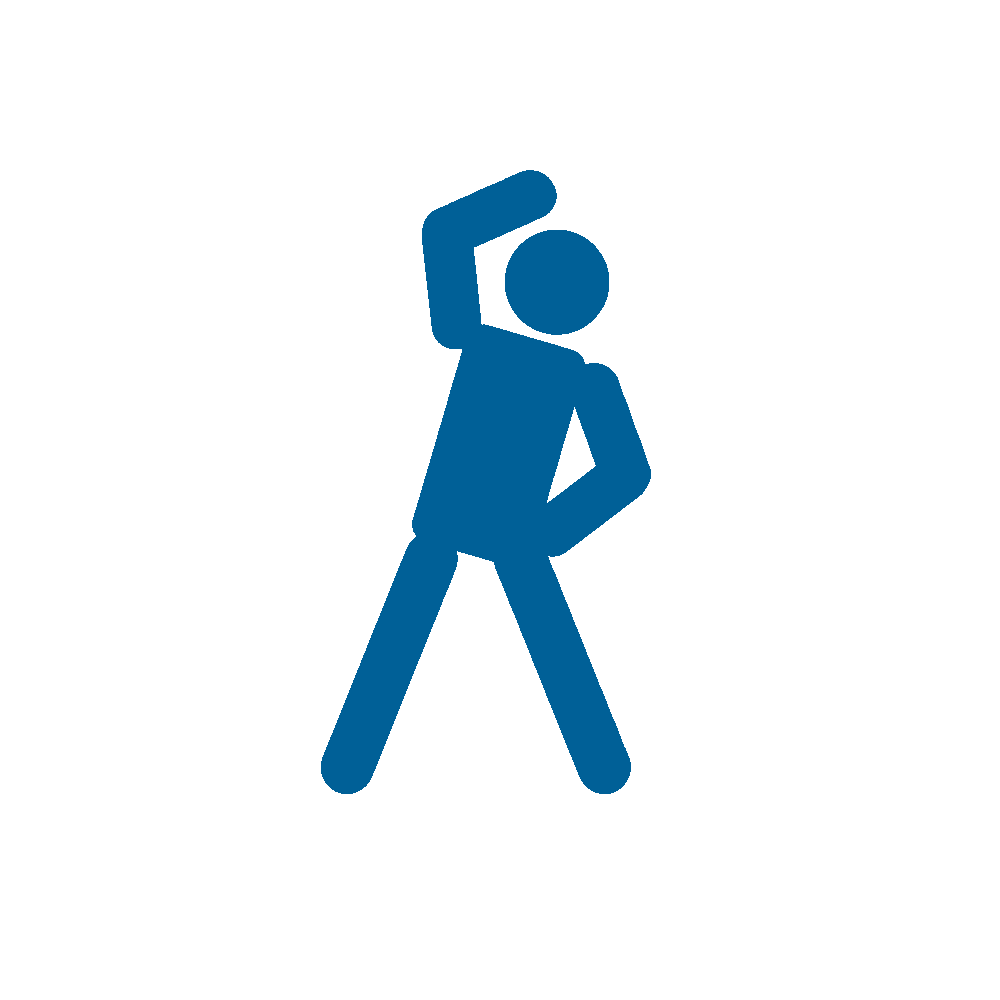 To complement the healing power of food, the NativeBody Reset also includes a 30-day exercise course. Each follow-along routine consists of a series of simple at-home movements intended to help reduce pain, strengthen joints, and tone the body so that you can look, feel and perform at your all-time best.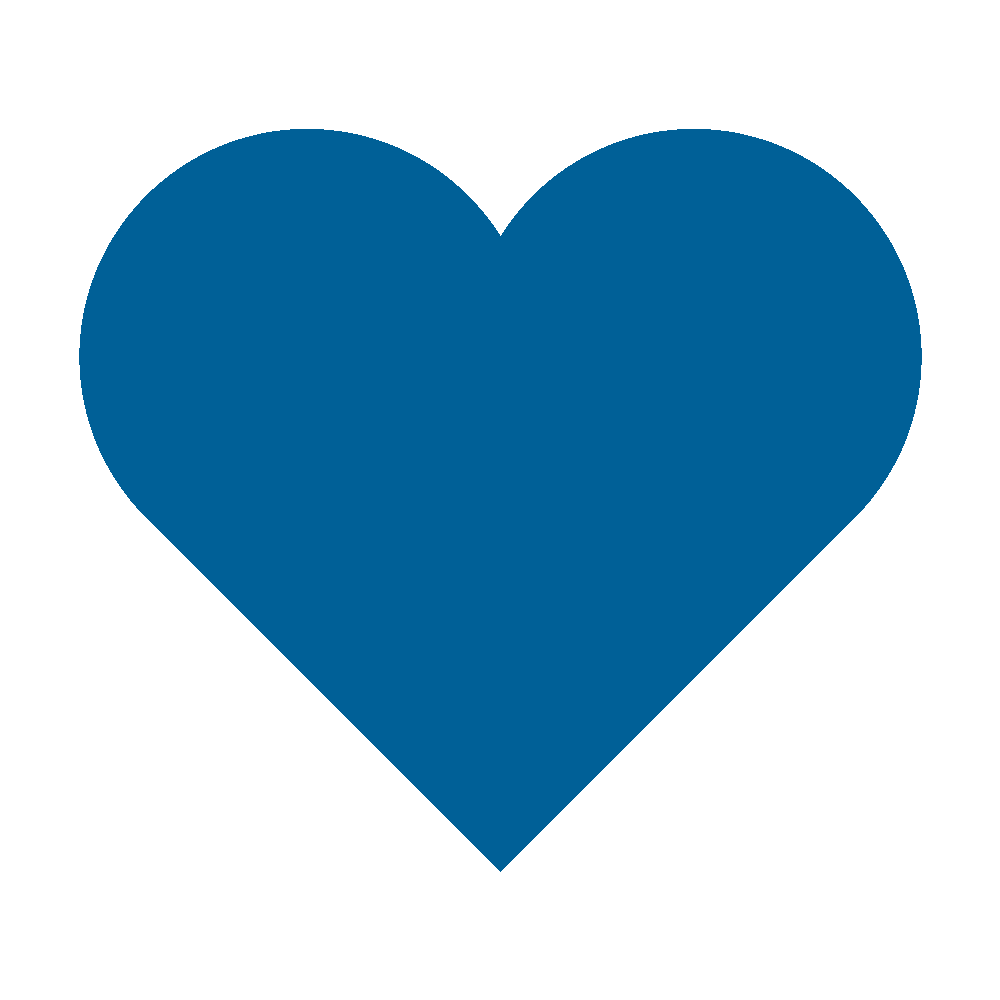 The NativeBody Reset provides the opportunity to reexamine our choices, optimize our environment and re-align ourselves with our inherent biological needs to live a more abundant, happy, and fulfilling life.
Why Today's Modern Diet & Lifestyle Has Failed You
With so many fad diets and "quick fixes" available today, it's hard to know which approach is right for you when it comes to improving your body and health.
While certain popular diets like the low-carb Ketogenic or Paleo diet show promising results for many, there are a majority of people who don't experience the same success...
This can be traced back to one fundamental flaw that exists with all modern-day diets…
There's no such thing as a "one-size-fits all" approach to reaching your best you to date.
The true path to unlocking your full potential starts with your native roots.
You see, each and every one of us was born with an unique biological encryption that we now refer to as our "genetics".
No two sets of genes are identical - yet there is something universal about our genes that holds the secret to achieving long-lasting health...
Within our genes, we've discovered Mother Nature's "cheat code" for unlocking our most vibrant state of being.
Our very genetic makeup contains the exact blueprint for how we must eat and move in order to thrive at our absolute fullest potential.
By aligning our diet and lifestyle choices with our genes, we can fully express the abundant health, effortless weight loss, and reinvigorated energy levels that nature encoded us all to experience.
This is where the NativeBody Reset Program can help.
From our gut bacteria, medications, family histories, and lifestyles we can clearly see how these individualized factors cause us to respond to food differently.

That's why we've created an easy-to-follow system that allows each person to examine their responses to certain foods and craft a customized approach to liberating their health.
The NativeBody Reset program is a 30-day course designed to restore your hormones, metabolism, and natural sleep cycle back to your original settings through the power of individualized nutrition and movement.
The ancestral approach of the NativeBody Reset allows you to easily assess which foods work for you - and those that don't - so you can optimize, heal and restore your health following a diet that is 100% custom to your unique biology.
Using the power of ancestral wisdom, this approach is far from the controversial, quick-fix diets that have become popularized by modern society.
This 30-day system includes everything you need to reset your body to its original settings and experience true transformation through food, exercise, and stress-relieving techniques to optimize your body from the inside out.
The 30-Day NativeBody Reset program was designed to be the all-in-one plan for reprogramming your health using a 100% customizable approach that suits your needs and goals at any stage of life.
Get The 30-Day Digital NativeBody Reset Program Today For FREE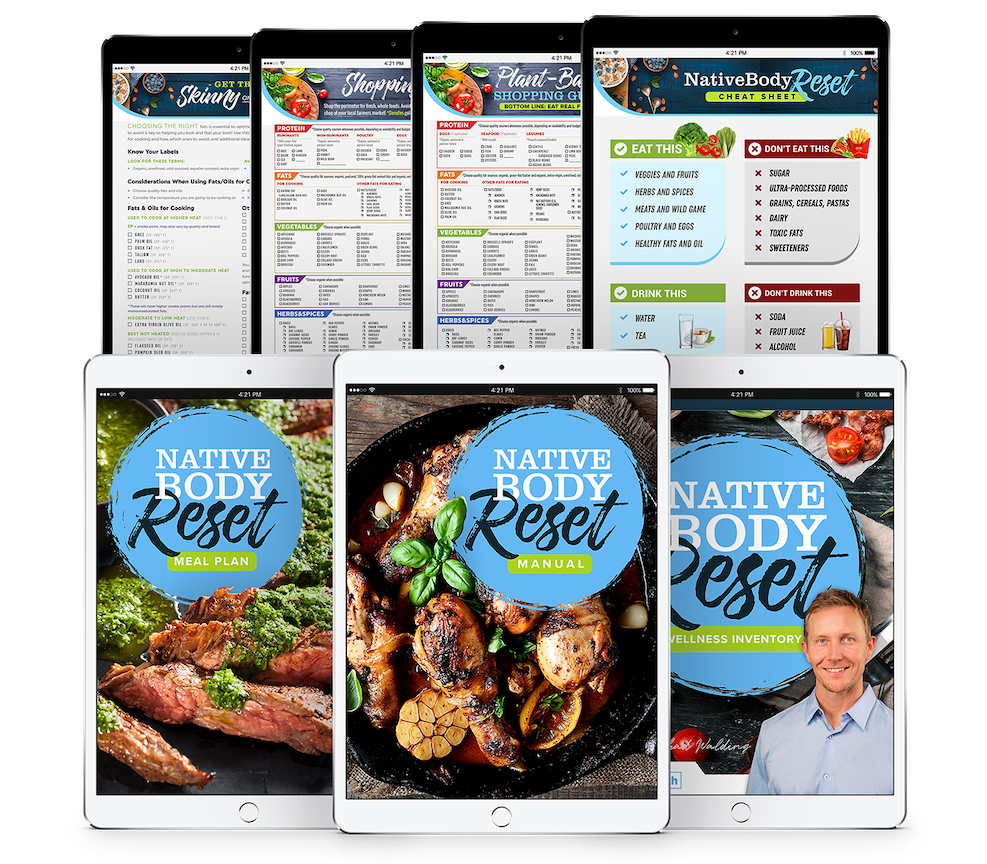 Sign-Up Today And Get FREE Access To Dr. Walding's 30-Day Digital NativeBody Reset Program
Here's How The 30-Day NativeBody Reset Has Changed Lives...
You found what you are searching for!
If you have been searching for a way to lose weight, lessen pain and inflammation, and feel fantastic- you came to the right place! This is not a quick fix but a path to a better you. All of the information and support is right there for you. You just have to decide to make a change.
This is not a diet, it's a change of lifestyle and it works. I didn't join to lose weight. I joined to learn healthy eating habits. Weight loss, more energy, and less pain were side benefits. My immune system was stronger this winter as well.
I lost 35 pounds and needed to buy a new wardrobe (a good problem to have!). I'm 38 and I'm healthier than I've ever been since I turned 30. It's made my fibromyalgia more manageable and my energy more existent. I HIGHLY recommend this to anyone needing to get rid of pain, belly fat, double chins, high cholesterol, high blood pressure, and even early signs of diabetes!
I have lost 28 pounds and have more weight to lose which I now know I can do. I no longer have physical aches and pains, and my emotions have been more stable. As a woman in menopause, I am no longer mentally foggy.
I have reached my goal weight and I'm feeling great. I lost 52 lbs. I had many allergies and I'm now over all my tummy issues. I plan on staying with this way of eating.
What's Included In The 30-Day NativeBody Reset Program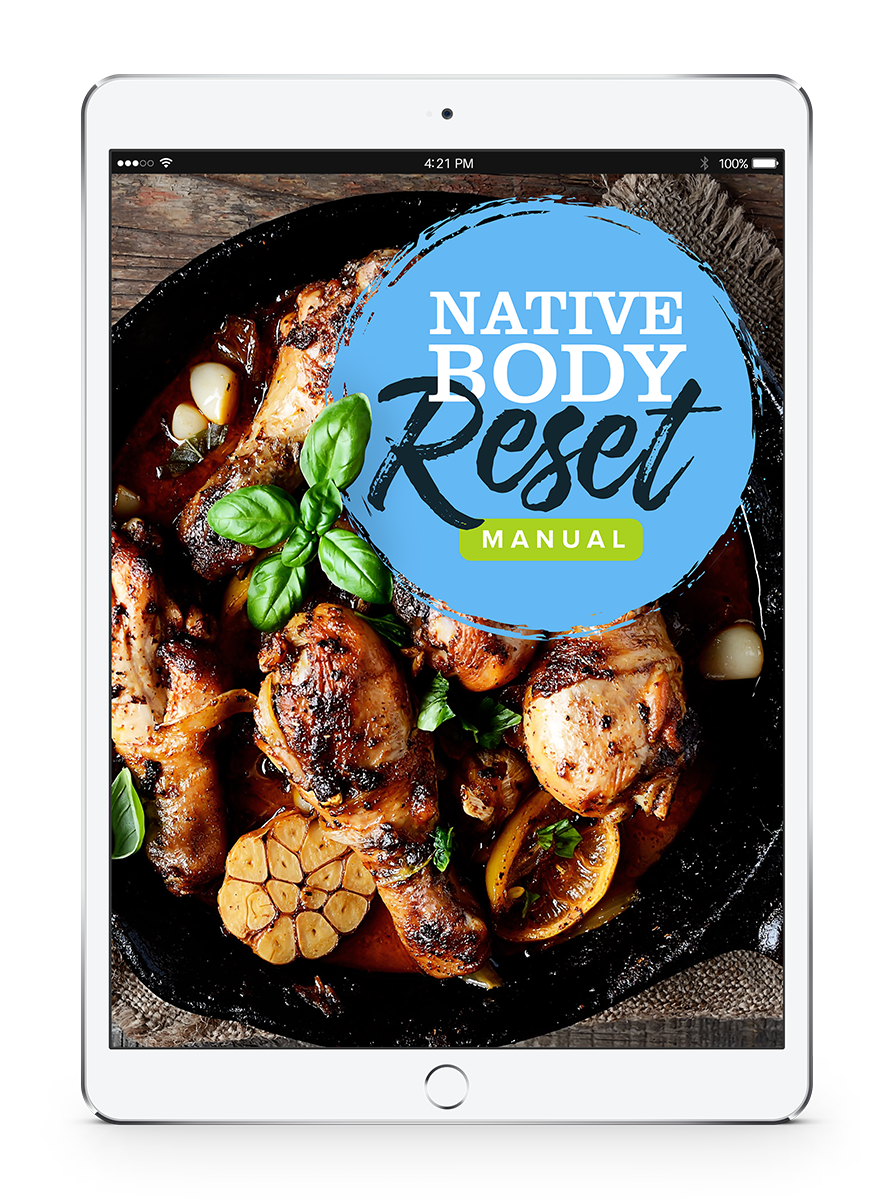 This hardcover book serves as your ultimate guide in helping you navigate toward the healthiest version of yourself over the course of the 30-day reset.
Within the pages of this manual you will learn what science has proven to be some of the greatest causes of human suffering - causes that have lead us to become disconnected from ourselves and the ways in which we are biologically designed to live.
To correct these factors, the NativeBody Reset Manual charts out the exact steps to take to restore your body to its native settings not only through food choices, but also through a series of strategies for promoting better sleep, decreasing stress levels, and improving the way we move on a daily basis.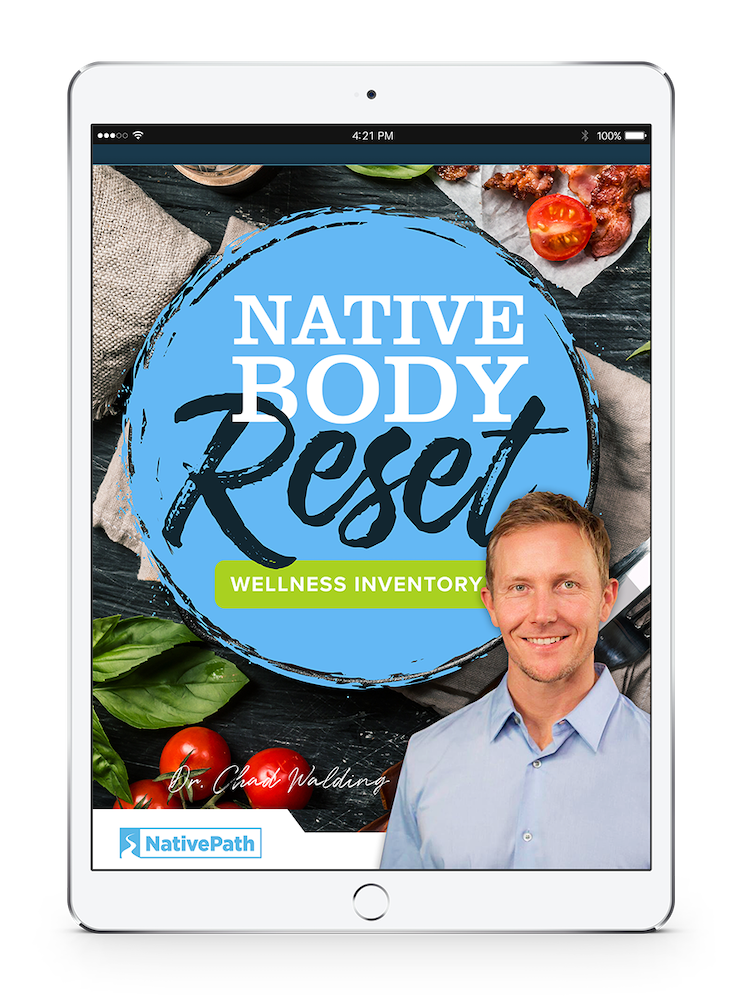 NativeBody Reset Wellness Inventory
Most of us are so disconnected from our bodies, we rarely realize how food and other environmental factors make us feel - which is where the Wellness Inventory comes into play.
This guide provides a Food Journal for tracking what you eat—not for calories, but to monitor how you feel afterward—which will give you a lot of insight from how your body physically reacts (e.g., rash, bloating, indigestion) to your mental and emotional reactions (e.g., sluggish, anxious, lethargic) to what you're eating.
This is an excellent way to attune your diet to how you are feeling and become conscious of the state of your health before and during the 30-day reset. It also allows you to track your progress over the course of your transformation and stay on the fast track to your best body and health yet.
NativeBody Meal Plan & Shopping Guides
The NativeBody Reset Meal Plan provides a 30-day diet that focuses on nourishing, healing foods and avoids foods that cause inflammation, gut irritation, hormone imbalance, and toxicity.
In addition to providing you with a weekly meal plan to follow during the reset, the meal plan also includes dozens of delicious easy-to-prepare recipes that have been carefully crafted for your enjoyment as well as your health.
Included also is a weekly done-for-you shopping list so there's no guesswork on what foods and ingredients you need to experience the best results possible. Plus, the NativeBody Reset even incorporates a 100% plant-based shopping list for those following a vegan lifestyle.
Whether your goals are to lose weight, boost your energy, or improve your health, the NativeBody Reset Meal Plan will equip you to do it all.
NativeBody Workout Course
With 20+ years of experience in helping men and women get out of pain through corrective movement, Dr.Chad Walding has combined his best techniques into an easy-to-follow workout course that can be done right from the comfort of your own home to strengthen & tone the body.
Consisting of 30 simple daily-move routines, the NativeBody Workout Course is perfect for women over 50 who are struggling with back, neck, shoulder, and hip pain as it's designed to relieve discomfort through improving core strength and full-body mobility. By building a strong foundation, you'll be able to sculpt a more lean, defined figure with each workout.
There is no equipment needed for these workouts and you can even perform each follow-along routine right from your smartphone, laptop, or mobile device using the exclusive online members-only website.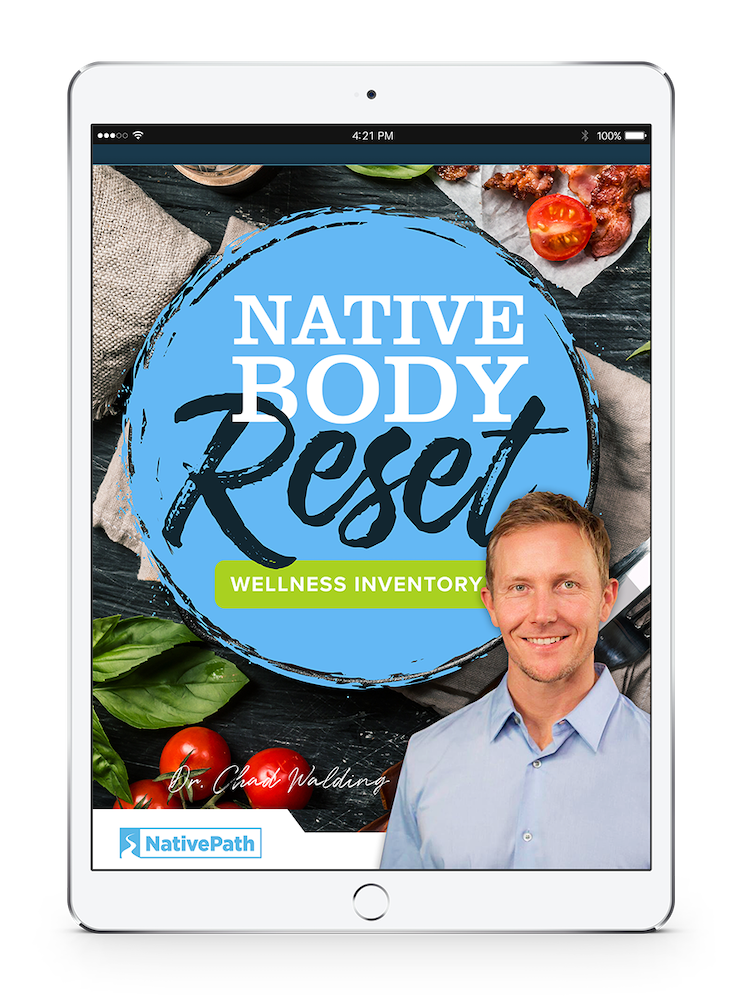 Lifetime Access To The Private NativePath Facebook Community
Once you sign up, you will also get lifetime access to our private NativePath Facebook Community where you can interact with other NativePath 30-Day Reset members who are on the same journey towards renewed health.
Here you will have direct contact with Dr.Chad Walding as well as our certified coaching team for endless motivation, Q&A, accountability, additional tips, bonus recipes, and feedback on your progress!
Realign With Your Native Path And Experience Long-Lasting Transformation
The Future Of Health Starts In The Past
As civilization has advanced, our health as a whole has fallen behind.
Today, the vast majority of us are eating artificial, heavily processed foods instead of what grows naturally from the land.
We spend the majority of our time confined to our workspaces, instead of moving freely.
As a society, we've become so intoxicated by the stress of our daily lives that we have lost touch with our native roots.
Over time these factors have inevitably suppressed our gene expressions, manipulated our hormones, and as a result - our quality of life as a whole has suffered.

Moreso, those who try to turn their health around are often met with confusion and frustration.
With so many deceptive diets, outdated advice, and misinformation, the process of improving one's health has become more challenging than ever…
What's worse is that many of these so-called "health" practices are potentially causing even more damage to our hormones and metabolism - setting us even further back from reaching our full potential.
Our genetic makeup tells us that we are biologically designed to live in sync with nature, but by living in our modern cages, bombarded by conflicting "one-size-fits-all" advice, we've made ourselves sick and unhappy.
But how do we modern humans correct this?
It's simple... We must realign with our native path.
It's Time To Reclaim Our Vitality And Take Our Health And Happiness Into Our Own Hands.
Join The 30-Day NativeBody Reset Program Today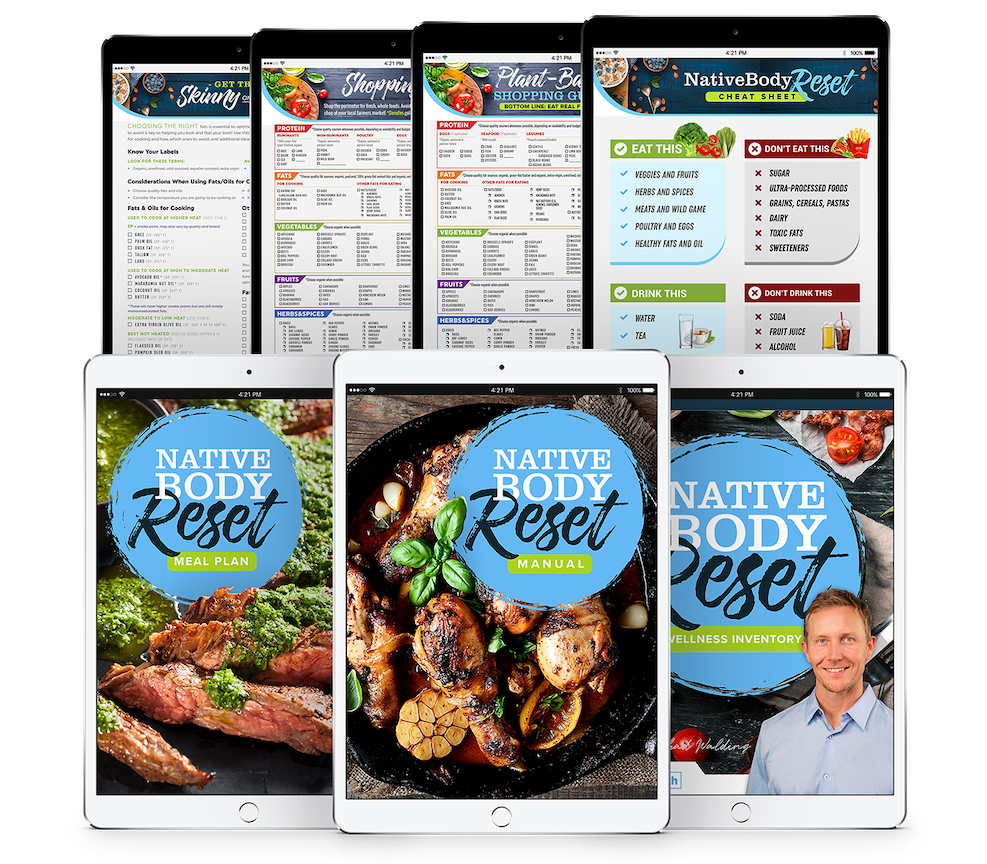 Sign-Up Today And Get FREE Access To Dr. Walding's 30-Day Digital NativeBody Reset Program
© 2023 NativePath
114 NW 25th St Unit #131 Miami, FL 33127
Toll-free: 1-800-819-2993


Disclaimer: The information on this site is not intended or implied to be a substitute for professional medical advice, diagnosis or treatment. All content, including text, graphics, images and information, contained on or available through this web site is for general information purposes only. NativePath makes no representation and assumes no responsibility for the accuracy of information contained on or available through this web site, and such information is subject to change without notice. You are encouraged to confirm any information obtained from or through this web site with other sources, and review all information regarding any medical condition or treatment with your physician.